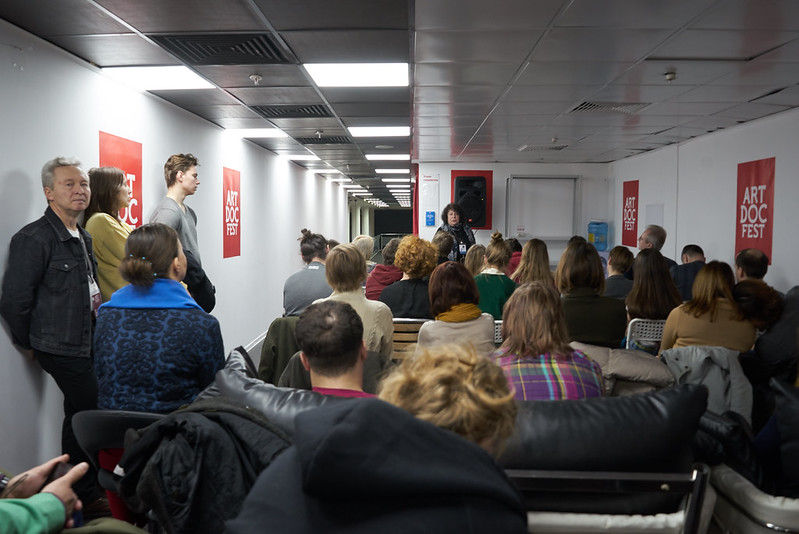 Artdocfest in Moscow has been organizing an educational section for several years. This kind of film school is relevant for those who are actively working in documentary films and journalism, and for those who are just starting to take their first steps in this direction. During lectures beginning documentary filmmakers, can learn something new about the profession, ask speakers any questions that might be bothering or ask for advice and even find like-minded people for their project.
The festival management invites authors who were noticed at the preselection stage and who fill out an submission for participation on our website as listeners of the ArtdocSchool.
The school lessons are held during the festival days in the morning in Moscow. There are lectures and master classes in various areas relating to journalism and non-fiction films. Lessons are conducted on screenwriting, directing, camera work, as well as technical consultations and lectures on strategies for promoting documentary films at festivals. Experts share recommendations on finding and attracting a producer, as well as experience in independent production. It presents a wide range of knowledge needed by young documentary filmmakers for their professional growth. The speakers are significant guests, famous directors and participants of the festival.
The first session of ArtdocSchool took place in 2017.
Among the teachers of ArtdocSchool were::
— Marina Razbezhkina (Russia). Head of the School of Documentary Films and Theater by Marina Razbezhkina and Mikhail Ugarov. Director, teacher. Laureate of international festivals. Winner of the National Laurel Branch Award for his contribution to the cinema chronicles. Link with photos of the Razbezhkina workshop in 2019 here.
— Philip Remunda (Czech Republic). Producer and director. Co-producer of number of films by Russian authors.
— Irena Langemann (Germany). Director, screenwriter. Works on German TV channels ZDF, ARD, DW with Russian themes. Her film about Peter Pavlensky opened the festival two years ago. You can find photos from the festival screening here.
— Alina Rudnitskaya (Russia). One of the most successful independent directors in Russia, working in co-production with European partners. Winner of the Grand Prix "Artdocfest". Her film "School of Seduction" opened "Artdocfest" - 2019. The film received a special jury prize.
— John Alpert (USA). Multiple Emmy Laureate, two-time Academy Award nominee, director and producer. Link to photos of the John Alpert workshop in 2017.
Participants of ArtdocSchool are paid for travel and accommodation in Moscow within the framework of the annual limit, and free accreditation for the festival is also provided.